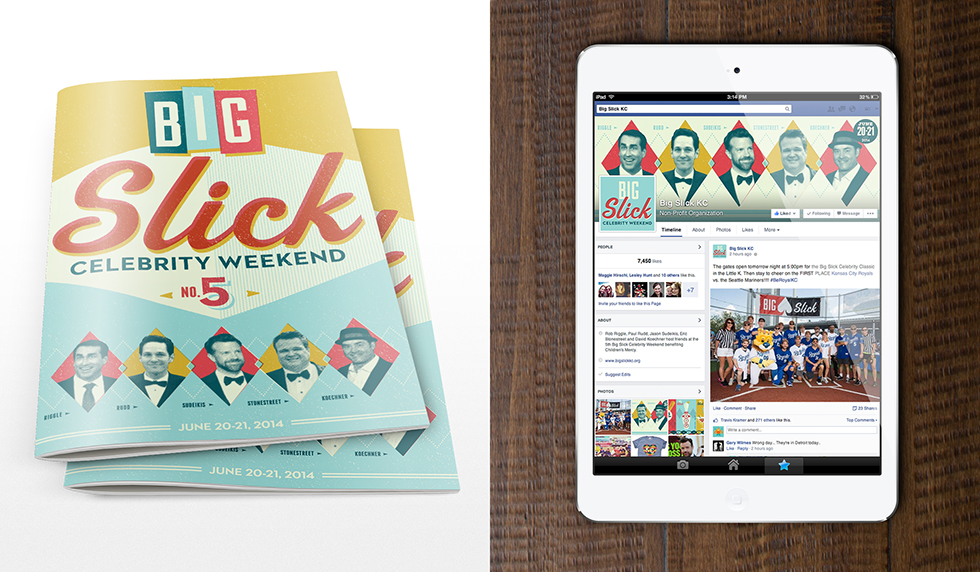 Big Slick was originally a charity poker tournament hosted by Kansas City's own Paul Rudd, Jason Sudeikis and Rob Riggle, benefiting Children's Mercy Hospital Cancer Center. Over the years they added wiffleball and baseball, and a party/auction to the mix with success. But, in the fifth year, they moved from poker to bowling, and added two more permanent hosts, Eric Stonestreet and David Koechner.
The visual tone was set loosely around a midcentury look and feel, kitschy and inviting; the heyday of bowling. It was this retro look that helped promote the change to bowling, but also allowed us to encompass the baseball aspect [in that it flourished as a national sport within that time period], and coincidentally incorporate a vintage Vegas feel that lent well to the party and auction- which has a lot of stage presence and entertainment qualities not unlike a Las Vegas show.

In the end we create a visually fun and impactful campaign that could work across multiple elements, and when paired with the five hometown celebs, and 20 or so of their Hollywood pals, went on to raise a record-breaking $1.2+ million for Children's Mercy. Everyone walked away a winner.